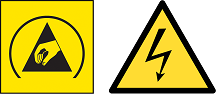 The

RCL-meter

is meant to be used for measuring unconnected components. Be careful when measuring inside equipment.


Always switch off the power, ensure that all components are discharged and disconnect the equipment from the mains before measuring inside equipment.

Ensure that any capacitor you want to measure is discharged before connecting it to the

RCL-meter

hardware.
Although the hardware will protect the sound card to a certain level, electrostatic discharge (ESD) can cause damage to the sound card and even to the entire computer. Be sure to take ESD precautions (discharge yourself) before handling the

RCL-meter

.